Recherche
Chris Aldridge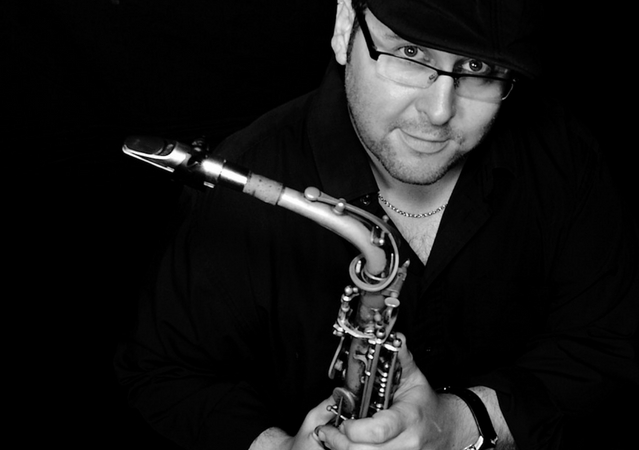 Saxophonist
Chris 'Beebe' Aldridge is from Birmingham U.K and is regarded as one of the U.K's finest saxophonists. He has toured with Gary Barlow, Ben E King, Roy Wood, US3, Gary US Bonds, Marti Pellow, Geno Washington, Jaki Graham, Climax Blues Band, Pee Wee Ellis, Bud Shank, Gerard Presencer, John Dankworth, Victor Mendoza in addition to many others. He has recorded with numerous artists including Rudimental, Jess Glynne, Macklemore, Alex Clare, Bizarre Inc, The Christians, Engelbert Humperdinck, Mother and performed on support tours with Rancid, Edwin Starr and Blue.
His wide ranging technique features beat boxing while playing flute, to playing two saxophones at the same time. He plays all saxophones, flute, bass clarinet and EWI in addition to vocals on his original material.
He has also appeared at numerous international festivals including Reading Rock Festival, London Jazz Festival and Montreux Jazz Festival. Beebe released his debut album in 1997 throughout the Middle East and Europe and is currently recording his seventh studio album ready for release early 2018. Reviews have compared his saxophone expertise to Grover Washington. He also performed on the soundtrack to the films Intimate With A Stranger which was premiered at Cannes Film Festival and Bruce Dickinson's Chemical Wedding. He can often be heard on TV and radio adverts and has recorded for all major record companies. He is also featured on Alexander Shulgin's triple album Tryptych. Other artists appearing on this album include Billy Cobham, Bob Mintzer, Bob James, Gary Husband and Martin Taylor.
Press reviews
Technically, Chris Aldridge and Beebe are both making their debut appearance, but only in the sense that David Bowie and Ziggy Stardust might be said to be performing together, for Aldridge and Beebe are one and the same man. His assumption of an alter-ego seems more about a need to manage his prolific output than a desire to act out an alien fantasy. The two names do represent different facets of his musical personality. Indeed, over his career, he has done more than the work of two men under those names. In broad terms, it's his birth name that Aldridge uses for his more traditional jazz playing, a bebop style evident on his own albums. It's as Beebe that he gives free rein to his quirkier tendencies, interspersing his sax solos with flute and beatboxing, and it's in this guise that he's performed not just with jazz-funk groups such as US3 but also 1980's pop-rave outfit Bizarre Inc.
Every now and then a band comes along that genuinely excite. Chris Aldridge with his band Beebe are just such an outfit. Chris's crew are the cream of the crop of the Midlands scene. They are a band more than equal to the sum of their stellar parts. In any other field of music than jazz they would be regarded as a stadium filling super group. They deserve national recognition.
Beebe is proud to be endorsed by Keilwerth, D'Addario, AMT microphones, AKAI, Beyer, Saxxas, and Corry Bros Mouthpieces.
Instruments
SX90 1300

SX90R 3400

Retour en Haut