Suche
Lenín Izaguirre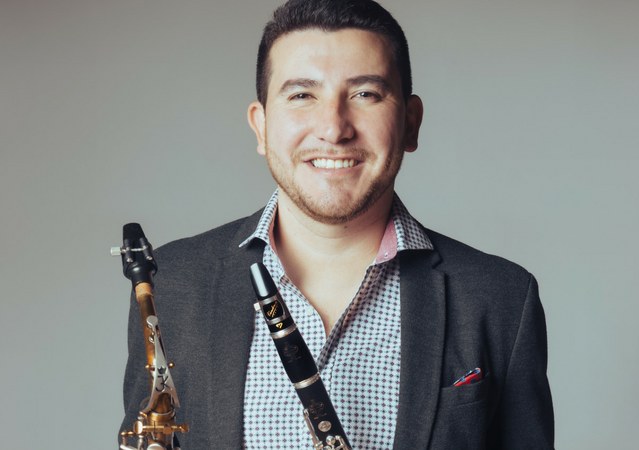 Professor, Costa Rican National Institute of Music & Tres Ríos Municipal School of Music - Heredia Concert Band, Costa Rican Clarinet Quartet
Lenín Izaguirre first studied clarinet under Juan Nájera Coto and later attended The University of Costa Rica, where he obtained a B.M. with emphasis on clarinet, under the tutelage of profesor Yamileth Pérez.
En el 2004 FESNOJIV awarded him a scholarship to study clarinet at IUDEM (Venezuelan University Institute of Musical Studies) as well as the Latin American Clarinet Academy under professors Valdemar Rodríguez, Gorgias Sánchez, Orlando Pimentel, Henri Crespo y Edgar Pronio. He participated in the 6th, 7th, 8th, 9th and 10th editions of the Festival of Young Venezuelan Clarinetists.
In 2006 Izaguirre enrolled in IUDEM Jazz School and studied both saxophone and clarinet under Pablo Gil. That same year he participated in the Latin American Clarinet Academy's First Clarinet Festival, hosted in Merida, Venezuela. He is a founding member of PROCLARI Association, produced Costa Rica's first International Clarinet Festival; and was also responsible for producing the 2nd, 3rd and 4th editions of that festival.In addition, he founded and produced the José Manuel Ugalde Quirós International Clarinet Contest.
Throughout his career as a clarinetist, he has studied under maestros, such as Luis Rossi, Antonio Saiote, Michel Arrignon, Bruno Graça, Juan Ferrer, Aude Camus, Walter Seyfarth, Sabine Grofmeier, Daniel Hörth, Jonathan Cohler, Marcelo González, Luis Humberto Ramos, Javier Vinasco, Luis Mora, Alejandro Moreno, Paulo Sergio Santos, Carlos Céspedes, Jorge Montilla, Ronald Van Spaendonck, Eddy Vanoosthuyse, Dominique Vidal, Sauro Berti, Steven H. Cohen and Stephane Chausse.He has studied jazz under Walter Blanding, Victor Goines, Mike Holober, Nicolas Folmer, Pierre Bertrand, Jon Irabagon, Alejandro Aviles, Diego Urcola and Leo Blanco.
As a solo artist, he has performed in Argentina, Colombia, Panamá, Paraguay, Portugal, Uruguay y Venezuela and has shared the stage with Stephane Chausse as well as Diego Urcola.
In 2014 he recorded his first album, entitled Invención with the Costa Rican Clarinet Quartet. It is a compilation of works written by the Costa Rican composer Vinicio Meza. This production was nominated for the 2016 ACAM awards under the instrumental category.
A year later he recorded his first solo album, Songoro, which features works composed by Alejandro Castro, Alonso Torres, Fidel Gamboa, Luis Perdomo, Pablo Gil, Rodolfo Zúñiga and Vinicio Meza. Songoro was nominated for a 2016 ACAM Jazz Award.
His second solo album was recorded in 2016 alongside guitarist Alonso Torres. This production, entitled Quisiera Decirte, consists of a collection of Costa Rican works by Alonso Torres, Fidel Gamboa and Vinicio Meza.
His solo career has included performances at some of Costa Rica's most important venues and festivals. These include the Costa Rican National Theater, the Foyer at the National Theater, The Casa del Artista, Salón Dorado, Eugene O'Neal Theater, Jade Museum Auditorium, The María Cullell Room at the University of Costa Rica, El Sótano and the Costa Rican National Arts Festival.
As an educator, Izaguirre has taught a number of master classes at different international locations. These include Argentina ( at the Juan Pedro Esnaola School of Music), Colombia (at the University of Manizales and during the second and third Regional Clarinet Conventions at Caldas), Panamá (at the National Music Institute ), Paraguay ( at the Paraguayan National Symphony Orchestra), Portugal ( at the Castelo De Paiva Ibero-American Clarinet Academy, The National Conservatory's Music School in Lisbon, and the Do Porto Conservatory of Music); as well as Uruguay ( at the Vicente Ascone School of Music and the Montevideo Symphony Band).
This year, Izaguirre will be performing in Lisbon and Oporto, Portugal, Paris, France; as well as Viena, Austria and the Canary Islands. He is an active professor at the Costa Rican National Institute of Music and the Tres Ríos Municipal School of Music. he also clarinetist with the Heredia Concert Band, a founding member of the Costa Rican Clarinet Quartet, and official Costa Rican delegate to the International Clarinet Association. His sponsors include Vandoren, Buffet Crampon, Julius Keilwerth, Cardoso & Conseçao as well as Costa Rican distributer, Instrumentos Musicales Bansbach.
Instruments
SX90R 2400

Retour en Haut