Recherche
Tiago Correia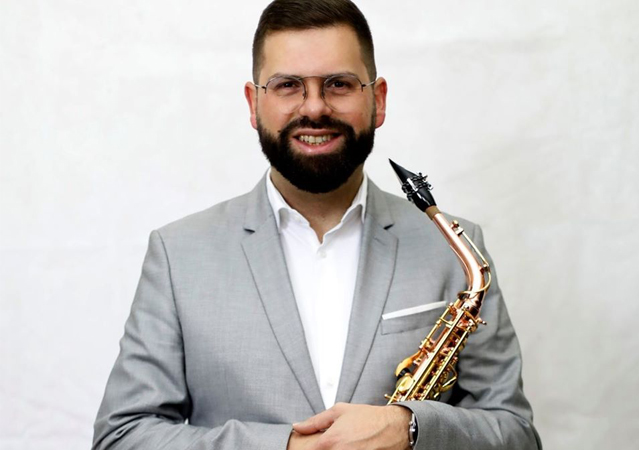 Professor of saxophone at Viseu's Regional Music Conservatory
José Tiago Vilaça Correia, began his musical studies in the Cabreiros Musical Band, district of Braga, later he attended the Centro de Cultura Musical, where he finished the Instrument course of Saxophone, in the class of professor Fernando Ferreira. In the year of 2004 José Tiago began the studies to achieve his musical degree, in the Instituto Piaget, Viseu, ending the graduation in the academic year of 2007/2008 in professor João Figueiredo class.
As saxophonist, Tiago as collaborated with several orchestras, highlighting some examples, the Orquestra Nacional de Sopros dos Templários, Orquestra de Sopros de Jovens de Águeda, Banda Sinfónica Minho-Galaica and Symphony Orchestra ARTAVE; working, among others, with the conductors, Luis Cardoso, José Manuel Brito, Vitor Matos, André Granjo, Miguel Sanz Madrid, Ernest Schelle.
During this years José Tiago as attended several Workshops and Masterclass related to the instrument saxophone. To refer some exemaples, the Saxophone Quartet Invictasax (Hugo Teixeira, Hugo Lopes, Carlos Pinto and Manuel Silva), Fernanda Alves, Paulo Martins, Alberto Roque, Fernando Ferreira and Fabrice Moreti
José Tiago develops his activity in the field of musical direction (band, orchestra and choir), having conducted as master conductor the Sociedade Filarmónica Harmonia de São Pedro do Sul from April 2006 to August 2011 and the Banda Recreativa União Pinheirense, Albergaria-a-Velha, from October 2012 to October 2015. During this project's he had also the opportunity to conduct the Banda de Música de Pontevedra, the orchestra of the musical "Les Miserables" (national debut in Portugal), the Banda Sinfónica da PSP (Public Security Police Symphonic Band) and the European Union Youth Wind Orchestra (EUYWO).
Tiago attended the master's degree in Wind Orchestra Conducting at the Instituto Piaget of Viseu, in a class lead by Maestro Paulo Martins. Also, during his training he attended classes with the maestros, Alberto Roque, André Granjo, Javier Viceiro, Teodoro Aparício-Barberán (orchestration), Jean-Sébastien Béreau, Douglas Bostock, Alex Schillings, Jan Cober and Baldur Bronnimann.
Currently, José Tiago, his the responsible for the Academia de Música de Fornos de Algodres, from Guarda District, professor of the saxophone class and ensemble class at Conservatório Regional de Música de Viseu (Viseu's Regional Music Conservatory), leading conductor of Projecto Orquestra Estúdio de Mangualde (POEMa), the Orquestra de Sopros Portuguesa (Portuguese Wind Orchestra) and the Banda Filarmónica Ovarense, Ovar. He is also responsible for the project Academia Europeia de Direcção de Banda (European Academy for Wind Band Conducting). Tiago Correia develops the PlusSax project with Cardoso & Conceição and Buffet-Crampon. He play's a Buffet-Crampon Senzo alto saxophone, Julius Keilwerth SX90R tenor saxophone.
Instruments
SX90R (tenor)

Retour en Haut